Sheriff Sales

Sheriff Sales are conducted on Tuesdays, Wednesdays and Thursdays at 10:00 a.m. in the center hallway of the Courthouse and Law Enforcement Center, 333 Vine Street, La Crosse, WI.
Successful bidders are required to have 10% of their bid in cash, money order or certified check at the time of sale made payable to the Clerk of Court. If the winning bidder does not have the deposit on hand at the sale, they will be disqualified and the sale will be re-conducted. The successful bidder is responsible for all legal liens, encumbrances and unpaid real estate taxes.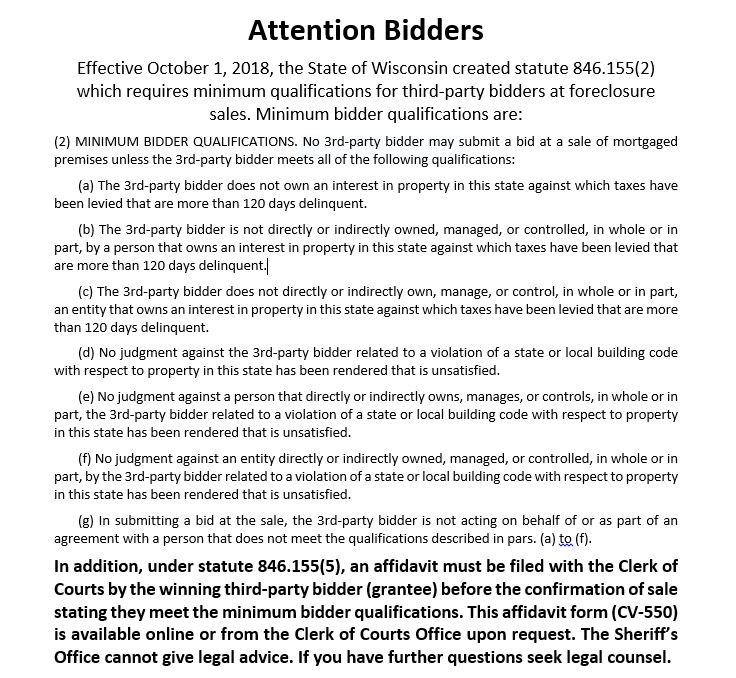 All properties are sold "as is" and are not available for viewing. Persons interested in obtaining information about a property are encouraged to contact the attorney or lender who is foreclosing on the property.
The bank, lending institution or their attorney will submit an opening bid. The property goes to the highest bidder.
Sales are subject to cancellation at any time without notice. Sheriff's sale fees are $150.00 total, this includes the posting and the sale.
To see the Notice of Foreclosure/Sheriff Sale paperwork, please click under View Notice, "Click to View".