Overview
As a bistate metropolitan planning organization, the LAPC works closely with many federal, state, and local agencies in Wisconsin and Minnesota to meet its planning functions and goals:

Partner Agency Planning Activities
Wisconsin Department of Transportation


The WisDOT has completed its draft long-range transportation plan, Connect 2050, and is in the process of reviewing comments and preparing to finalize and adopt the plan. Click on the logo or the link to access the draft plan and additional information.
The WisDOT is also updating its Wisconsin Bicycle Transportation Plan and Wisconsin Pedestrian Policy Plan, which were adopted in 1998 and 2002, respectively, and combining them into the Wisconsin Active Transportation Plan 2050. The Active Transportation Plan will be a statewide long-range plan focused on human-powered modes of transportation, such as bicycling and walking. This plan will evaluate the state's active transportation opportunities and needs, resulting in policies and actions that will align with and further Connect 2050, Wisconsin's statewide long-range transportation plan.
To participate in the update process, please go to WisDOT's Active Transportation Plan 2050 website and sign up for event notifications and other plan-related information.
Minnesota Department of Transportation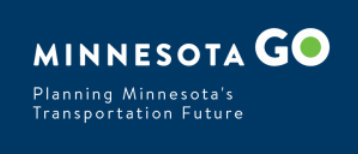 The MnDOT is updating its Statewide Multimodal Transportation Plan (SMTP) and Minnesota State Highway Investment Plan (MnSHIP). To participate in the process and provide comment, please see MnDOT's main comment page.