WIC

The WIC - Women, Infant, and Children Program promotes and strives to maintain the nutritional health and well-being of breastfeeding and postpartum women, infants and children. WIC provides nutritious foods, nutrition education (including breastfeeding promotion and support), and referrals to health and other social services to participants at no charge
WIC Eligibility
To be eligible for WIC benefits in Wisconsin, you must:
Be a resident of Wisconsin; and
Have a child under 5 years old or be pregnant; and
Be income eligible based on the WIC income guidelines (WIC staff will help determine income eligibility)

You may be automatically income eligible if you participate in other programs such as:

FoodShare
Medicaid
BadgerCare Plus
Wisconsin Works Program (W-2)
Any legal guardians, including kinship care and foster parents, can apply for WIC for their children.
What the WIC Program Provides
Information about nutrition
Healthy foods to supplement your diet
An eWIC debit card to purchase healthy foods
Education and support for breastfeeding
Apply
For information, or to apply for WIC, call (608) 205-8755 or apply online below.
APPLY FOR WIC
Resources
La Crosse Area Food Resources
La Crosse County Resource Guide for WIC Participants
WIC Farmers Market Nutrition Program
2023 WIC Approved Markets in La Crosse County
Current Customers
Staff are available by phone for appointments and questions at (608) 205-8755.
If you have a scheduled appointment, you will receive a phone call from us on the day of the appointment.
Required documentation will be requested electronically, before your appointment.
WIC benefits will be loaded onto your eWIC card at the time of the appointment.
Materials will be mailed to you, or you can call ahead to arrange a time to pick them up at our office at 300 4th Street North, La Crosse, 54601.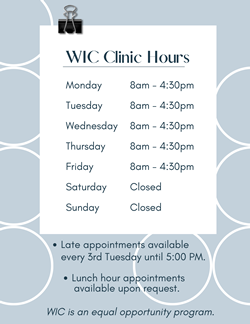 WIC Program of La Crosse, Wisconsin
Phone (call or text): 608-205-8755
Email: [email protected]
WIC Nondiscrimination Statement
Families that participate in WIC can also participate in the Fit Families Program (see info below).

---
Fit Families SNAP-ED
Fit Families is a free coaching and support program that provides the framework for achieving healthy food and beverage consumption, daily physical activity, and healthy supportive environments. Fit Families strives to build healthy eating and physical activity habits to last a lifetime.
How Does Fit Families Work?
Your child will be enrolled during an appointment with a Fit Families Coach
You may choose one area of focus from the Core Messages
A Fit Families Coach will contact you monthly via phone, text, email, or in-person visit
You and your child will receive fun, activity-based items to assist in reaching your goal
Core Messages:
Make Every Bite Count...More Fruits & Vegetables
Make Every Sip Count...More Healthy Beverages
Move More...Watch Less
Eat Healthy, Be Active...Your Kids are Watching
To find out more visit: https://wifitfamilies.org/Invite
SNAP-Ed Nondiscrimination Statement