La Crosse Urban Stormwater Group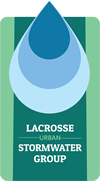 The La Crosse Urban Stormwater Group is taking on the challenge of slowing down the rush of rain and snowmelt that takes pollution to rivers. We are working together to educate you, residents and small business owners, about what runoff is, why it's bad, and how to fix it. Our goal is not only to protect water, but to make our towns better places to live. To reach this goal, we want to award action, with the Soak It Up Project Award. Community members who've finished a stormwater management project on their property will be recognized, and their projects will be shared so others see how it's done and be inspired to take on projects of their own.
Visit our site for more details.

Stormwater Brochure
---
Meeting Information
Other Organizational Appointment
Additional committee information, and minutes and agendas can be found on the web site under meeting minutes and agendas.

Meeting Agendas and Minutes
1. Click on link above, Click the menu in the gray bar to select a section.
2. Select committee from the list
---
Committee Members
Rolly Bogart
Tina Ericson
Karl Green
Chadwick Hawkins
Pete Meezra
Marilyn Pedretti
Mary Rinehart
Teresa Schnitzler
Kevin Schubert
Jake Schweitzer
Gregg Stangl
Carroll Vizecky
---