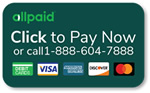 Make a Child Support
Payment (Allpaid.com)

What's New
CALL CENTER: 1-414-615-2594
Law Enforcement Center
La Crosse County Child Support
333 Vine St. Room 1701
La Crosse, WI 54601
On January 8, 2022, Wisconsin is moving to the Way2Go platform to provide child support debit card users with a new website offering more services. Be sure to update your mailing address with EPPIC and your child support agency to ensure that you get all of the necessary outreach information.
It's Now Easier to Pay Your Child Support at the Agency
The child support agency will now be accepting cash and credit card payments at the office, or you can make a credit card payment online using the link on the main page.

Payments made using:
www.GovPayNow.com, use PLC# A001ow for La Crosse County - Child Support

To pay by phone:
1.888.604.7888, use PLC# A001ow for La Crosse County - Child Support
The child support agency now has a public use computer and phone located in the agency lobby which is available for use by case participants. The computer is programed to allow case participants to access the agency's webpage, the Department of Children and Families webpage as well as Indeed and Workforce Connections.
The phone is programed to allow phone calls to local temporary employment agencies, Workforce Connections and Economic Support.