Welcome!
Help us shape the future of transit service in the region!
This site has been created to provide you with information about the process and development of a Regional Transit Development Plan. You will be able to find informational materials, opportunities to participate, and Plan content.
Project Overview
The La Crosse Area Planning Committee is working with La Crosse Municipal Transit Utility (MTU), Onalaska Shared Ride (OSR), and Scenic Mississippi Regional Transit (SMRT) to develop a Regional Transit Development Plan (TDP). This document will provide a vision for transit in the region over the next 10 years, with an emphasis on future needs and sustainable growth.
The Plan will report existing conditions, public feedback, community needs, and recommendations for how area transit operators should align services to meet the needs of a growing region. The process is intended to develop recommendations reflective of community needs that can be feasibly implemented within a 10-year period.
About Our Transit Agencies
The La Crosse MTU provides bus service in the city of La Crosse, to the cities of La Crescent and Onalaska, and to French Island in the town of Campbell. Service is provided along routes with scheduled stops.
The Onalaska Shared Ride (or Onalaska/Holmen/West Salem Public Transit) is a demand response service for riders in the city of Onalaska and the villages of Holmen and West Salem. Vans will pick up and drop off riders at their door.
The Scenic Mississippi Regional Transit as an intercity bus service that connects rural communities in Vernon, Monroe, and Crawford Counties to the city of La Crosse. Like the La Crosse MTU, SMRT provides service along routes with scheduled stops.

Objectives
The objectives of the Plan include, but are not limited to:
Evaluating current policies and operations for providing transit services in the La Crosse area.
Identifying transit needs of the community.
Analyzing new service strategies, products, and technologies to provide accessible and convenient transit service to the public.
Providing LAPC and transit agency staff and leadership with goals and recommendations to implement over the next 10 years, including a financial plan for operational and capital expenditures.
Plan Development
A Study Review Committee (SRC) comprised of representatives from the LAPC, public transit agencies, local government partners, and transit advocates will provide guidance and oversite of the planning process and the plan development.
The SRC meetings are expected to occur every 1-2 months over the duration of the project, corresponding with major milestones.
Process and Timeline
Process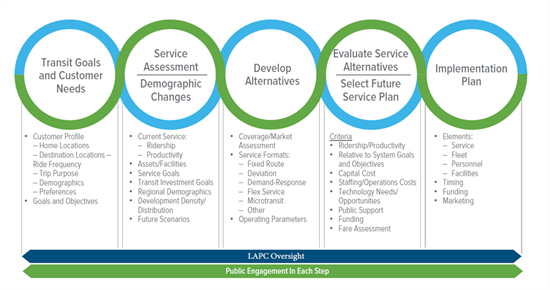 Timeline
A--Stakeholder Meetings
B--LAPC Policy Board
C--Committee on Transit and Active Transportation
D--Virtual Open House
E--Community Survey and Wikimap
Green Squares: Tentative dates for memos and deliverables.
Public Meetings and Materials
Please visit the Public Meetings and Materials page for participation opportunities and Plan-related materials. Comments can be made through our Send Us Your Comments page. Please note in the comment box that your message is related to the Regional Transit Development Plan.