LAPC web maps are currently accessed through the La Crosse County Land Information GIS Web App Portal. We will have our own portal within the next few months but in the meantime each image below will connect to the web map through the County portal.

Transportation Improvement Program
The Transportation Improvement Program or TIP is a four-year listing of transportation projects that include federal-funded, state-funded, and regionally significant transportation projects in the LAPC planning area. A TIP document is published annually and includes not only the four-year list of projects but also discussion of performance measures and targets and listings of illustrative and annual obligated projects. The TIP project list is often amended as new projects come online and existing projects experience updates. The web map illustrates the annual TIP as it is amended.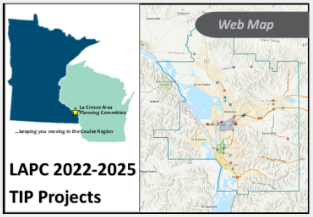 Modal Web Maps
Transit Services
Public transit services in the planning area are provided by La Crosse Municipal Transit Utility (MTU); Onalaska Shared Ride (OSR), which is also known as Onalaska/Holmen/West Salem Public Transit; and Scenic Mississippi Regional Transit (SMRT). The web map shows the routes and stops for fixed-route services and the service area for demand response service.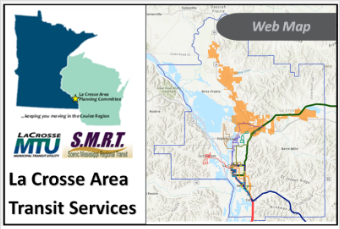 Bicycle and Pedestrian Facilities
Coming soon!
Performance Mapping
Beginning with MAP-21 (Moving Ahead for Progress in the 21st Century Act), State departments of transportation (DOTs) and metropolitan planning organizations (MPOs) have been required to engage in performance-based planning, which includes tracking and developing targets for 27 federal performance measures. The web maps below illustrate existing conditions that can be mapped. Other performance information can be found on our Performance Monitoring page.
Condition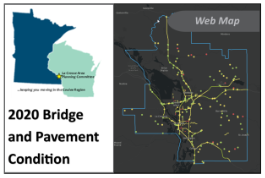 Safety
Coming soon!