Testing Information
Healthcare Testing:


*When testing at our local health systems, be sure to CALL FIRST.
Gundersen Nurse Line: 608-775-4454
Mayo Nurse Line: 507-293-9525
Scenic Bluffs Health Center: 608-654-5100

At-Home COVID-19 Testing
Wisconsin residents can order a collection kit online and have it shipped to their home at no cost. The kit will include detailed instructions on how to collect the saliva, which includes a video call with a testing supervisor through Vault Medical Services, and ship it back via UPS dropbox to the lab for processing. This is a saliva test and is similar to a nasal swab test you might receive at a community testing site.

Walgreen's COVID-19 Testing


COVID-19 testing is available at 3909 Mormon Coulee Rd, La Crosse WI and 403 Gateway Ave, Mauston WI. More information is available here.


University of Wisconsin La Crosse Testing - Antigen Tests

*Important note: At this time, the La Crosse County Health Department is encouraging community members to be tested at National Guard Testing Sites or our local Health Systems. These locations provide testing that is most accurate. If you utilize the UWL testing location and this test (antigen) is positive, you will need to complete an additional test (PCR) to confirm that you have COVID-19.

Free testing for COVID-19 is now available to anyone in the La Crosse area at Cartwright Center on the UW-La Crosse campus. The University of Wisconsin System, in partnership with the federal government, is offering this new testing option to help identify silent spreaders of COVID-19 in the community.

This BinaxNOW Testing Program will test up to 500 people each day - even those who are showing no symptoms. Anyone age five or older can be tested, but registration is required.

For more information: uwlax.edu/info/covid-19/testing/
Free Community Testing Events: PCR Tests
Testing sites are only available on the dates listed below.

*Testing sites are intended for residents of Western Wisconsin but are available to everyone, even those without symptoms of COVID-19, age 12 months or older.
*Please pre-register for these events: https://register.covidconnect.wi.gov/
*Lines may become long and attendees need to remain in their vehicles
*Results may take up to five days. If you have not received your results after 5 days, please call our office at 608-785-6240.


Note: Testing sites are only available on the dates listed below. Locations/Times are subject to change and we will post all updates here. Any cancellations due to inclement weather will also be posted here.
| | |
| --- | --- |
| Monday | |
| 6/7/2021 | La Crosse: 11AM-5PM |
| 6/14/2021 | Health and Human Services |
| 6/21/2021 | 300 4th St. N. |
| 7/12/2021 | La Crosse, WI |
| 7/19/2021 | |
| 7/26/2021 | |
| 8/2/2021 | |
| 8/9/2021 | |
| 8/16/2021 | |
| 8/23/2021 | |
| 8/30/2021 | |
| | |
| Tuesday | |
| 6/15/2021 | Viroqua: 11AM-5PM |
| 7/27/2021 | Old County Hwy Shop |
| 8/24/2021 | 602 N. Main St. |
| | Viroqua, WI |
| | |
| Wednesday | |
| 6/9/2021 | Black River Falls: 10AM-4PM |
| 6/16/2021 | Little Red Shed |
| 6/23/2021 | 421 Cty Rd R |
| 6/30/2021 | Black River Falls, WI |
| 7/7/2021 | |
| 7/14/2021 | |
| 7/21/2021 | |
| 7/28/2021 | |
| 8/4/2021 | |
| 8/11/2021 | |
| 8/18/2021 | |
| 8/25/2021 | |
| 9/1/2021 | |
| | |
| | |
| Thursday | NO TESTING EVENTS - See other provider options above |
| | |
| Friday | NO TESTING EVENTS - See other provider options above |
| | |
| Saturday | NO TESTING EVENTS - See other provider options above |
| | |
| Sunday | NO TESTING EVENTS - See other provider options above |
| | |
| | |
| | |
| | |
| | |
| | |
| | |
| | |
| | |
| | |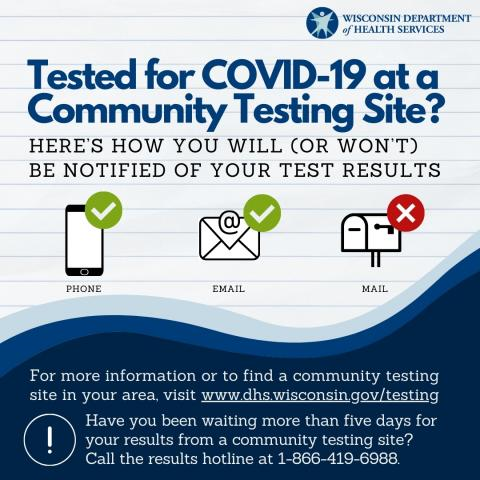 What to Do After Getting Tested