Local Coronavirus Updates




Have a question about COVID-19?

E-mail us: [email protected] or call our call center Monday-Friday 8:00-4:30 - 608-785-6240.
Or find us on Facebook, Instagram, and YouTube!
We urge you to wear fabric face masks if you must be in public, to practice physical distancing, and to stay home as much as possible. If you have ANY symptoms of COVID-19 including fever, chills, runny nose, congestion, muscle or body aches, cough, tiredness, headache, new loss of taste or smell, nausea, vomiting, or diarrhea to stay home and contact your provider to be tested for COVID-19.
DHS County Level COVID-19 Data
State of Wisconsin COVID-19 Information

Alerts:
Health Advisory Final - 10.16.20


See the new Coulee COVID-19 Collaborative dashboard and 7 day averages: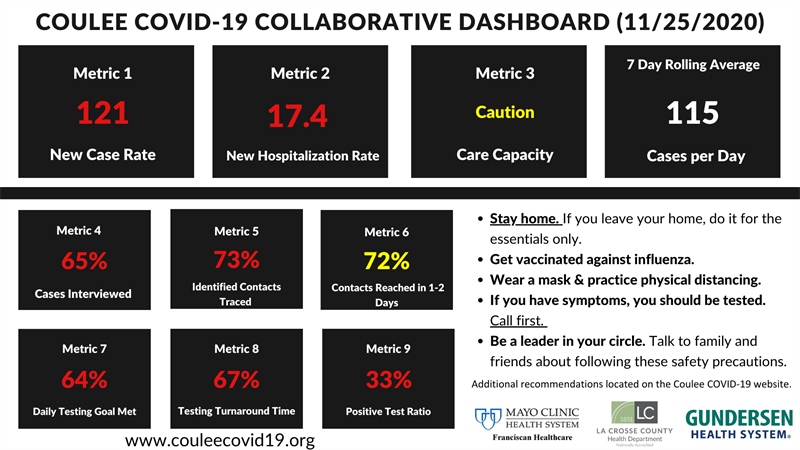 Current Coulee COVID-19 Collaborative Recommendations:
While the past seven days saw an all-time high case rate, the last few days have shown some small improvements. Fewer cases per day and fewer hospitalizations. Overall availability of hospital beds improved. While a glimmer of hope is a welcome reprieve, it should not mean less vigilance. Behaviors and gatherings that occur this week have the potential to make or break our community's trends. We continue to see one in three people tested for COVID-19 receiving a positive result. La Crosse County also saw the average age of cases rise to 43.8 years during this look-back period which may lead to increased hospitalizations in a few weeks. We extend a heartfelt thank you to the businesses and community members making difficult choices for the greater good, and we issue another plea for continued action and adherence to the guidance below. The metric for both Gundersen Health System and Mayo Clinic Health System remains yellow, but the behavior of our community in the next few weeks will be vitally important.

Individuals and Families
Personal gatherings with non-household members continue to spread COVID-19. Gatherings at a funeral and a large holiday gathering were noted this week.

For Individuals and Families, the Coulee COVID-19 Collaborative recommends all people:
Stay home.

If you leave your home, do it for the essentials and nothing else.
Cancel all travel and social gatherings. Do not interact with people you do not live with.
Support local businesses by ordering take-out for a meal or picking up items curbside.
Avoid all businesses or locations that are not following recommendations on masks, physical distancing and capacity limits.
Make plans for safer holiday gatherings. Thanksgiving celebrations held between multiple households are not recommended nor are trips to crowded stores this weekend.

Wear a mask.

Indoors and out, anytime you're around someone who does not live with you.

Practice physical distancing if you must be in contact with others – stay 6 feet apart.
Wash your hands frequently and avoid touching your face.

Use hand sanitizer if a sink is not available.

Get tested. Know your status.

Call your health care provider or visit a community testing site.
At community testing sites anyone can be tested – symptoms or not.
If you test positive isolate immediately, complete our case form, and notify your contacts.
If you have symptoms or are a contact of a positive, quarantine while you wait for your results.

Get your flu shot.

The flu shot does not protect against COVID-19, but by protecting you from the flu, we keep the number of people needing hospitalizations due to flu down.

Seek care when needed. Health care facilities remain safe and open.

Continue clinical visits and seek emergency care if and when needed.

Be a leader in your circle.

Check in on family and friends with a call or online chat. Talk about the importance of following these safety precautions.
Have the courage to challenge misinformation and share helpful resources.
Businesses and Employers
Workplace exposures continue to cause cases and clusters and there continue to be significant numbers of people reporting multiple cases linked to their place of employment.

For Business and Employers, The Coulee COVID-19 Collaborative recommends all establishments:
Do not shorten quarantine. Follow quarantine guidance as recommended by CDC and WI Department of Health Services which is currently 14 days from time of exposure. Do not direct any symptomatic or exposed employee to report to work. A negative test result does not shorten a quarantine.
Require masks, indoors and out for staff and all patrons.
Whenever possible, allow employees to work from home.
Screen employees who need to report to work in-person for symptoms and exposures.
Bars and restaurants should prioritize offering take out and curbside service, rather than in-person service. Bars and restaurants should be closed for on-premise consumption between 10 pm and 4 am.
All businesses should limit capacity to 25% of total capacity or 50 people whichever is less, indoors or out.
Cancel or reschedule any large in-person event, sports or gatherings through at least December 18th. Recommendations will be updated weekly.

Schools and Universities
This week saw one large outbreak with double digit cases at a K-12 school; cases at K-12 schools otherwise held relatively steady. Cases connected to universities also held steady at a high case rate – this has the potential to spread quickly as students may travel over the holidays.

For Schools and Universities, the Coulee COVID-19 Collaborative recommends:
All in-person sports, chorus, clubs, practices, and group activities should be cancelled through at least December 18th. Recommendations will be updated weekly.
Virtual learning is recommended unless schools can

strictly

follow their own COVID-19 safety plans, abide by isolation and quarantine recommendations, universal masking requirements, physical distancing guidelines (6 feet), and limit to 25% of room capacity or 10 people, whichever is less.
College students should follow guidance provided by their universities.

Churches and Places of Worship
This week saw two more clusters from places of worship. We will not know the full extent of these clusters for another 2-3 weeks. Church clusters have the potential for wider spread due to activities such as unmasked singing, lack of mask wearing in general, and lack of physical distancing.

For Churches and Places of Worship, the Coulee COVID-19 Collaborative recommends:
Worship, classes, meetings, chorus and gatherings should be online only.