Update from the Court regarding Novel Coronavirus (COVID-19)
The La Crosse County Circuit Court has published an Order Regarding Emergency Temporary Measures in response to the COVID-19 (Coronavirus) pandemic.

If you have cases pending in the La Crosse County Courts, or you become a party to a new case in the upcoming weeks, please take note of these new procedures that are in effect from March 17, 2020 until May 1, 2020.

Note that the effective dates of the order may be modified depending upon the evolving circumstances regarding the spread of the virus.

Cases will proceed as currently scheduled unless otherwise notified by the Court.

Order Regarding Emergency Temporary Measures

Coronavirus (COVID-19) Notice

Information about County Operations:
Social distancing and minimizing travel can have a major impact in delaying the epidemic. La Crosse County is encouraging people to conduct business with County Departments via phone and email, where possible. Using prevention, we can slow the spread of the disease and protect the most vulnerable.
If you think you have been exposed to COVID-19 and develop a fever and symptoms, such as cough or difficulty breathing, call your healthcare provider for medical advice.
---

Hello, and thank you for visiting the
La Crosse County Clerk of Court Website!
The Office of the Clerk of Circuit Court, the Register in Probate, and the Family Court Commissioner's Office, coordinate and manage the general legal proceedings and business operations of the La Crosse County Circuit Courts. The Circuit Courts have responsibility for all state, county, and some municipal actions as provided under criminal and traffic, family, civil, juvenile, and probate law.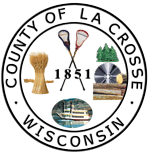 Contact Info
Pam Radtke, Clerk of Courts
LEC - Rm. 1200
333 Vine Street
La Crosse, WI 54601
Phone: (608) 785-9590
FAX: (608) 789-7821
Office Hours: 8:00 AM - 4:30 PM Weekdays (except when jury trials continue beyond 4:30 PM. The courthouse will remain open to allow the public access to the trial until concluded or adjourned.)
Our goal is to provide superior justice related services to all participants and the general public. Please explore the accompanying information at your leisure and be sure to let us know if you have any suggestions for improving our services to you. If you wish to reach us by phone, our telephone number is 608-785-9590.
Sincerely,
Pam Radtke
La Crosse County Clerk of Courts
THE CLERK OF CIRCUIT COURT AND STAFF ARE NOT ALLOWED TO GIVE LEGAL ADVICE. Legal questions should be directed to your attorney or to the Lawyer Referral Service at 1-800-362-9082.